How to Be Confident in English - The Secrets of International Communication Success
Public Course Face to Face Multi-Session
Public Course LIVE On Line Multi-Session
How to Be Confident in English - The Secrets of International Communication Success
Confident English Course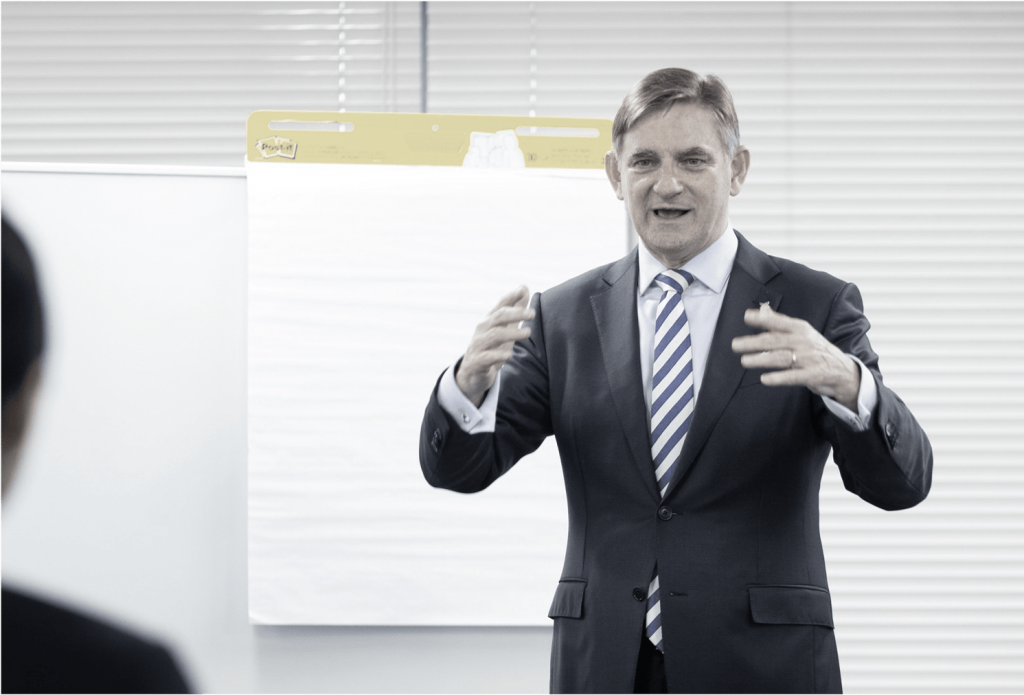 You already have the English capacity you need. You have a decent English vocabulary, can read adequately and frequently study English to get better. Yet when it comes to international business meetings and presentations, you suddenly freeze. Ever experience something like that? This is because you have the ability but lack the confidence to speak English. Perhaps you are trying to speak "perfect" English and fear embarrassing yourself. We will help you remove such barriers that prevent you from communicating in English with confidence.
Course Details
Please read the Guideline for Group Training During COVID-19 before enrolling in the course.

In this course, your trainer will be a native English speaker who will also be able to provide guidance in Japanese if necessary. This course will help you break down the "barriers" that prevent you from speaking English, gain more confidence, develop a strong presence, and be able to communicate in global business situations. (3 hours x 4 sessions)


4-weeks(3 hours per session)
Week 1
Session 1:

Deepen relationships with others in a global environment

• Learn the basics for speaking in English with confidence
• Practice effective ways of questioning to deepen human relationships in a global society

Overcoming hesitance toward discussions using English

• Learn to engage in English discussions confidently with people from various countries
• Develop expressions to lead the discussion effectively in English
Week 2
Session 2:

Develop convincing English presentation skills

• Understand effective "composition" for expressing in English
• Develop English presentation skills that work well in front of people from other countries

Effective writing

• How to lead off
• How to make requests clear
• Indicating deadlines
• Explaining rationales
Week 3
Session 3:

Coaching How To Write Clearly

• Review Homework
• Practice With Coaching
• In Class Exercises

Have a stronger impact on others and "create" presence

• By speaking in English with increased energy, show your presence in an international setting
• Overcome self-consciousness and the "grammar trap" that discourages powerful communication
Week 4
Session 4:

Confidently ad-lib in English

• Understand the process to speak English effectively in impromptu situations
• Communicate in English with confidence under pressure

Celebrate growth and express vision

• Build confidence by assessing the improvement in your English skills
• Commit to continuously improving your English skills
Training Objectives
Learn the basics for speaking in English with confidence
Practice effective ways of questioning to deepen human relationships in an international environment
How it will help you
Communication is a key element in global business. So why don't Japanese team members show their ability and speak up in international meetings? It is not English itself that is the barrier here. It is the resistance to speaking less than perfect English. Have you set limits for yourself because you are afraid of not being able to speak fluent English or communicate well? You can remove these limitations yourself. You don't have to have perfect grammar. Speak the English you know. The key to breakthroughs is to first "try speaking even if it is not perfect.
Suitable for
Anyone wishing to operate in a global environment but who tend to be hesitant to speak out in settings where English is required.
Anyone who can introduce themselves to a certain extent but lacks confidence in presenting or conducting discussions in English
Anyone with basic English skills equivalent to a TOEIC score of 600 or higher
Particularly recommended to anyone who is thinking about taking one of the English training courses offered by Dale Carnegie who may consider this course as a warm-up
Session Details: 8 Step "Performance Change Pathway"
Step 1: Pre-Work (3 videos, 3 podcasts, 3 Thought Leadership Articles)
Step 2: Performance Coaching For Managers Workshop (optional - 60 minutes – Managers of participants are re-skilled to drive follow-up and results)
Step 3: Kick-off Session (1 hour online), Pre-training survey, Accountability partner assignment
Step 4: Participate in the Main Program (4 Sessions)
Step 5: 28-week self-paced learning program starts (Weekly video and audio content sent for 28 weeks)
Step 6: Deep Learning 1 (2 hours online session 30 days after main program ends)
Step 7: Deep Learning 2 (2 hours online session 90 days after main program ends)
Step 8: Graduate-only event (2 hours online session every month)
Frequently Asked Questions
Please view our Frequently Asked Questions and Answers about our training.