Effective Communications & Human Relations
Public Course Face to Face Multi-Session
Public Course LIVE On Line Multi-Session
Effective Communications & Human Relations
Dale Carnegie Course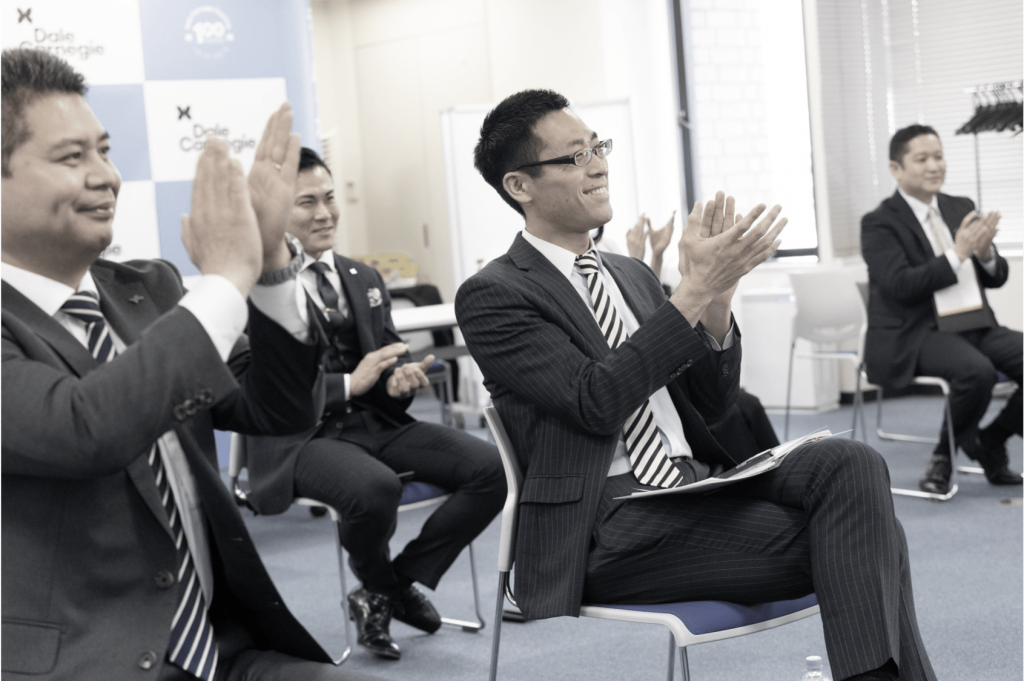 Develop leadership and communication skills to inspire and motivate others with the world-famous Dale Carnegie Course.
 
The Dale Carnegie Course is a highly interactive program designed to give you the communication and human relation skills in any setting. Through participatory discussions and group activities, you will discover how to strengthen your interpersonal skills, better manage stress, and adapt to rapidly changing work environments.
 
Course Dates
Please refer to the schedule below for date and registration information.
Course Details
Please read the Guideline for Group Training During COVID-19 before enrolling in the course.

"Breakthroughs" and "expanding your comfort zone" are the two common words used throughout our sessions. In order to develop new skills and achieve our goal and vision, we need to have the mindset and attitude to step out and challenge ourselves to do what we have never done before. The trainer encourages and prompts the student to take the first step. Participants will also encourage each other to experience breakthroughs together.

In this course, participants will go through these 5 drivers of success for continuous performance improvement.
Building Confidence
People Skills
Communication Skills
Leadership Skills
Stress Management
Session 1
Build a Foundation of Success
Learn how to maintain relationships with others
Understand the 5 Drivers of Success
Enhance your abilities to realize your vision by committing to breakthroughs
Recall and Use Names
Focus on people as individuals
Create positive first impressions
Learn how to remember names
Session 2
Build on Memory Skills and Enhance Relationships
Apply a process for memory improvement
Become familiar with the principles for improving human relations
Identify opportunities for improving business relationships
Increase Self-Confidence
Use our experiences to communicate more confidently
Communicate with clarity and conciseness
Discover how past experiences influence behavior
Session 3
Put Enthusiasm To Work
Plan and prepare to reach breakthrough enthusiasm goals
Demonstrate how changing our attitudes can alter behaviours
Understand how enthusiasm helps us to achieve our visions
Recognize Achievements
Improve attitudes by acknowledging our successes
Focus on our strengths and the strengths off others
Enhance our personal communication skills
Session 4
Put Stress In Perspective
Recognize the impact negative stress has on our results and effectiveness
Commit to using concepts and principles to better handle stress
Discover more effective ways for business professionals to prepare for and address challenges
Motivate Others and Enhance Relationships
Persuasively communicate in a clear and concise way so people are moved to action
See how consistent application of the Human Relations Principles improves results
Discover how relationships help us advance toward our goals
Session 5
Energize Our Communications
Recognize that including action in our communications releases nervous energy
Become more natural when communicating with others
Become more animated to energize and engage others
Unleash Our Full Potential
Display increased levels of courage, confidence and conviction
Effectively tap our reserve power
Develop a great freedom for self-expression
Session 6
Make Our Ideas Clear
Demonstrate clarity when leading
Learn to present information in a logical sequence
Reinforce the value of demonstrations when explaining information
Think On Our Feet
Communicate effectively in impromptu situations
Apply methods that assist in communicating with clarity and conviction
Recognize the value of presenting our ideas with confidence
Session 7
Gain The Willing Cooperation Of Others
Influence people through trust and respect
Achieve cooperation versus compliance
Discover the power of finding points of agreement
Commit To Influence Others
Understand the principles to demonstrate leadership
Explore methods to minimize resistance
Discover how to coach for improved performance
Session 8 
Build Others Through Recognition
Concentrate on the strengths of others
Develop skill in giving and receiving positive feedback
Discover the value of sincere appreciation
Realize The Power of Enthusiasm
Realize that we are responsible for our attitudes
Use positive "self-talks" to increase our confidence
Discover the benefits of being proactive
Session 9
Develop Leadership
Positively influence the attitude of others
Use positive approaches when coaching people
Deal with challenging situations more effectively
Demonstrate More Flexibility
Implement a wider range of communication skills
Apply the power of risk-taking
Become more open-minded to change and opportunity
Session 10 
Disagree Agreeably
Demonstrate a process to organize our thoughts in impromptu situations
Communicate our ideas effectively even when we disagree
Strengthen our personal opinions with evidence
Manage Our Stress
Increase our ability to control worry and stress
Learn from others how to confront our fears
Recognize that we can triumph over adversity
Session 11
Be A Human Relations Champion
Form a habit of applying principles to win friends and influence people
Inspire others to achieve similar results through application of the principles
Champion human relations to increase productivity and efficiency
Inspire Others
Communicate with strong and powerful feelings
Connect with others on an emotional level
Inspire others to think and act differently
Session 12
Celebrate Achievements and Renew Our Vision
Recognize breakthroughs resulting from this program
Inspire and motivate others by communicating our visions
Commit to continuous improvement
Training Objectives
Enhance Communication Skills
Develop Leadership Skills
Strengthen People Skills
Reduce Stress and Improve Our Attitude
Make a lasting impression on others
Build Greater Self-Confidence
Elevate Presentation Skills
Learn facilitation techniques that involve others and achieve results
How it will help you
A well-refined professional program
With constant improvement and refinement, the program has been delivered in over 100 countries in 30 languages and helps you develop globally recognized skills.
Time space learning
By participating in each training session within a 12-week period, you will have time to practice what you have learned. With practice, you will experience change in your action and attitude.
High Quality
All Dale Carnegie Trainers are ISO-9001 Certified. All trainers are professionals working at the forefront of business, and their high-quality training and coaching will make learning practical and permanent.
Proven practical content
You can immediately apply the proven methods of Dale Carnegie Training in business.
Continuous Learning
Follow-up sessions are available after the course to encourage continuous learning.
Suitable for
This course is suitable for people who want to:
Gain more confidence
Strengthen human relation
Improve communication skill
Develop leadership skills
Reduce Stress and Improve Our Attitude
Session Details: 8 Step "Performance Change Pathway"
Step 1: Pre-Work (3 videos, 3 podcasts, 3 Thought Leadership Articles)
Step 2: Performance Coaching For Managers Workshop (optional - 60 minutes – Managers of participants are re-skilled to drive follow-up and results)
Step 3: Kick-off Session (1 hour online), Pre-training survey, Accountability partner assignment
Step 4: Participate in the Main Program (3or 12 Sessions)
Step 5: 28-week self-paced learning program starts (Weekly video and audio content sent for 28 weeks)
Step 6: Deep Learning 1 (2 hours online session 30 days after main program ends)
Step 7: Deep Learning 2 (2 hours online session 90 days after main program ends)
Step 8: Graduate-only event (2 hours online session every month)
Frequently Asked Questions for Dale Carnegie Course
Please find our frequently asked questions and answers for this course.
Frequently Asked Questions
Please view our Frequently Asked Questions and Answers about our training.